INVESTIGATIONS BY THE MEDICAL BOARD OR OTHER LICENSING AGENCY: UNPROFESSIONAL CONDUCT CHARGES (ACCUSATION), AND STRIVING FOR THE BEST OUTCOME
The potential for Medical Board or other licensing agency discipline can pose a serious threat to the health professional's income and career. The stress and uncertainty that licensing agency actions create often goes to the core of the professional's self-identity and well-being. The best approach for the health care professional is to get attorney representation early on in the agency's investigative phase, even before the agency has made any formal contact about it if possible. Tip-offs to the existence of a disciplinary agency's investigation can include a subpoena for medical records, colleagues receiving requests to be interviewed by a licensing agency investigator, or a formal report made by a medical staff to the licensing agency and/or to the federal National Practitioner Data Bank.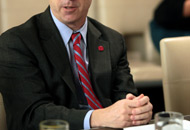 I represent physicians and other health care professionals in all phases of Medical Board or other agency license discipline, from the early investigation phase, through the agency's investigative interview, and into the post-accusation and hearing phase. A number of disciplinary cases can be negotiated to settlement with the agency without having to go to full administrative hearing. Sometimes that is the just, fair and therefore preferred, alternative for the client. But sometimes it isn't. Sometimes, the only way to strive for a just and fair result is to go to hearing.
Agency actions can impact not only the professional's reputation, but equally seriously, can jeopardize the right to earn a living. If you are the subject of a Medical Board or other licensing agency investigation, or have already been served with an Accusation seeking to discipline your license, contact me today and let's discuss the facts of your case, what strategies we might employ, and how it all might impact your future.